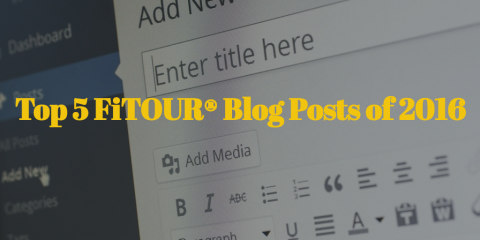 2016 came and went in the blink of eye.  They do that you know.  When we look ahead toward 2017 doesn't it seem like so much time is there - so many things to do and accomplish.  So much possibility.  But when you turn around and look back at 2016 instantly you are faced with the reality of the rapid passing of time.  It goes so fast. 2017 has A LOT coming from FiTOUR.  We are loaded with new certifications and cec courses to release, with new concepts to tighten, with new video, and we are excited! Looking back at 2016 though we are incredibly thankful and encouraged.  We released our latest CEC program, some new Advanced Certifications, and we had a blast at our annual trip when we gather with the rest of the fitness industry at IDEA World.  
In 2016 our blog has headed in a fun direction and we are excited about it's potential.  We love sharing our ideas with you all and are looking ahead to 2017 with anticipation and excitement.  But what were the hottest topics on the FiTOUR Blog in 2016?  
TOP 5 FiTOUR® Blog Posts of 2016...Here we go!
#5 - Benefits of Meditation - are you meditating yet? No?  Read why you should.
#4 - The Pelvic Floor - Who should do Kegels?  Everyone should do kegels.  Not sure how?  Read this!
#3 - Benefits of Aqua Fitness for Seniors - We think all humans should incorporate Aqua Fitness into their exercise regime.  Mix it up with a great workout that is low impact for better results and lengthen the life of your joints!
#2 - Core & Functional Fitness: Bodyweight Training - Bodyweight training is HUGELY popular industry wide because of a number of key factors.  It modifies and progresses with simply cueing, it can travel with you, and everyone can do it.  Not sure where to start?  Try here!
#1 - New Year's Resolution Solution: Accountability Contract - The Accountability Contract is KEY to creating a successful, working relationship between client and trainer.  KEY.  Print your copy and start using it NOW!
Loaded with exciting new releases and programs, 2017 will be another excellent year to be part of the FiTOUR Family!  If you love fitness and saving money, you've found your fitness home with FiTOUR!
In Good Health,
MV