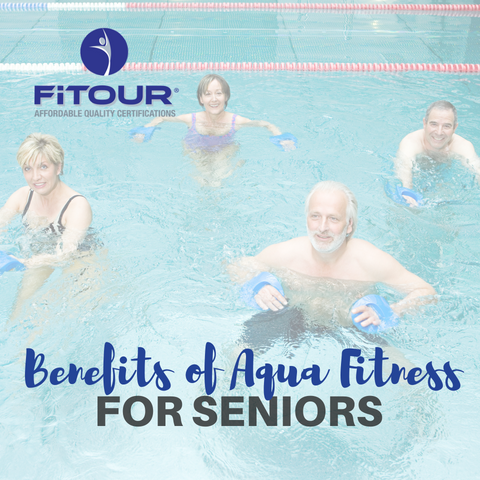 Seniors are a special population that is well served in the Aqua Fitness group class.  As our body ages our joints become more rigid, we become prone to injury for a variety of reasons, and often our social life fades.  Aqua Fitness class addresses these issues and creates a positive environment and friendly atmosphere for Seniors to thrive.  I spoke with Rhonda Gann, the FiTOUR® Director of Training Team, about three key benefits Aqua Fitness addresses for Seniors:
Aqua Fitness induces a faster recovery rate from injury.  Many injured persons can return to exercise in the water sooner than to exercise on land because water exercise is not fully weight-bearing.  Water exercise enables movement with reduced pain and a greater range of motion.  Warm water also helps relax tense muscles and relieves pain.
Aqua Fitness also encourages social interaction for Seniors.  People often build relationships and bond quickly with fellow class participants.  Aqua exercise allows Seniors to enjoy a comfortable and safe workout environment, which makes for an inviting and welcoming atmosphere.  Many Aqua Fitness exercises reflect playful movement which make the workout fun and interactive. 
Exercise in the water improves viscosity in the joints, thereby enhancing mobility for those with osteoarthritis.  For those suffering from arthritis, it is often more comfortable to exercise in the water because the water helps support the joints and muscles.  There are many Aqua Exercises that allow those with arthritis to exercise without strain on the joints, which increases strength and joint range of motion. 
By offering Aqua Fitness clubs can open programming options to a wide range of people with various ability levels.  Aqua Fitness is a wonderful exercise format for improving cardio-respiratory fitness, strength, flexibility, and balance.  It also creates a friendly fun atmosphere that everyone, even Seniors, will love.