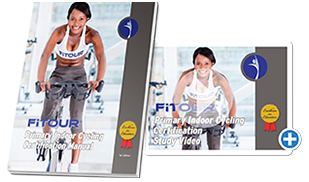 Indoor Cycling has become one of the most popular forms of Group Exercise in the fitness industry.  With successful completion of the FiTOUR® Indoor Cycling Certification Program, you will become a part of one of the most successful fitness programs throughout the world. 
The FiTOUR® Primary Indoor Cycling Certification course will give you all the tools you need to be a group cycling instructor extraordinaire. The curriculum covers indoor cycling equipment, biomechanics of proper pedaling, warm ups, cool downs and drills for indoor bicycle training.  You will also learn injury prevention strategies and how to teach a safe and effective indoor group cycling class.
Language of Materials and Exam:
Featured Reviews
Great instruction and all online!
I have been spinning and riding a road bike for several years. I finally decided that I would like to help others fall in love with cycling! This course is very well built with the printed and video materials. I can't wait to start leading classes!
Posted December 27, 2016 by Erika B.
Ease of re certification
I appreciate the ease to which the re certification can be obtained. Also appreciate the re fresher course that goes with it. Just out of curiosity, I noticed the certificate is signed by Robert Ottis. My maiden name is Ottis. Any relationship to anyone in Illinois? Thanks again!
Posted February 7, 2016 by Kathy from Gold"s gym and the YMCA
Enabling capabilities and perspective
Through the Indoor Cycling Certification I have receieved enabling capabilities to support proficiency in the facilitation of Classes as well as provide a safe and engaging environment that encourages, motivates and challenges my Riders.
Posted February 25, 2014 by Jim from Biloxi, MS
Program Overview:
Obtain a working knowledge of an Indoor Cycling Bike Equipment from the components to proper bike set-up
Understand the Exercise Science behind Indoor Cycling
Learn various formats of Indoor Cycling Classes and how to use the formats to provide your students with balanced and effective Indoor Cycling classes and programs
Understand risk factors, safety guidelines and how to teach Indoor Cycling to Special Populations
Learn how to design an Indoor Cycling class using heart rate monitoring and varying the riding profiles
Learn how to chose music and how to choreograph an Indoor Cycling Class
Benefits of Becoming a Certified Primary Indoor Cycling Instructor
Provides employers and clients with the mark of excellence through dedication to expanding your knowledge through study to become and Certified Primary Indoor Cycling Instructor

Study Materials:
The online study material for this FiTOUR® certification listed below is FREE! with registration. All FiTOUR® certification exams are based on the content of the study materials. FiTOUR® encourages participants to review the study materials in advance of the certification to ensure a higher examination success rate.
FiTOUR® Group Cycling Online Study Manual - $19.99 -- FREE!
FiTOUR®

Group Cycling

 Online Study Videos - $24.99 -- FREE!
FiTOUR®

Group Cycling/Group Exercise

 Hard Copy Study Manual -- $20!
Practice Examinations are available for all certifications - $9.99