DollyB Stokes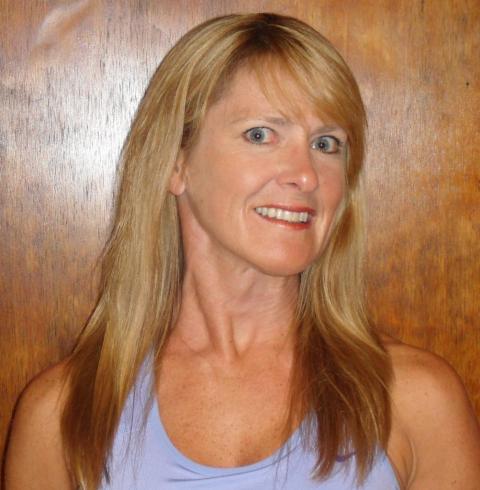 With her infectious laugh, keen sense of humor and dynamic personality, FUN is key when Dolly Stokes is sharing her knowledge of fitness with others.
She is in high demand as a fitness expert. She has provided weekly fitness tips on WPMI-NBC15's Morning Show, and has worked as a correspondent "fitness expert" for the Mobile Press newspaper and Page & Palette in Fairhope, Alabama. Dolly is an international trainer for NRG2GO Travel and provides fitness training at resorts in Jamaica, Mexico, Costa Rica and Cuba. She is an approved CEC provider for AFAA.
Dolly's interests and skills have become quite diverse with the growth and transformation the fitness industry has experienced since she taught her first aerobics class in 1988. She is a highly skilled instructor in all areas of group fitness. She has been a certified personal trainer since 1992. She has many years experience as a manager of World Gym and as a Fitness Director for the YMCA of South Alabama.
Currently, Dolly is the owner of DollyBFitness Private Fitness Training in Fairhope, Alabama. In addition to general fitness programming, DollyBFitness offers clients specialized conditioning programs in golf, polo, triathlon, skiing, running, tennis and swimming. In 2006, Dolly completed an 18-month 750-hour intensive certificate program through Blue Cliff School of Massage and specializes in sports massage techniques.
Dolly joined the ProTrainer Team in 2002 and has presented over 200 workshops as a FiTOUR® ProTrainer. In 2004, Dolly became the FiTOUR® Sales and Recruiting Director. In 2006, she was promoted to Head ProTrainer and managed the FiTOUR® ProTrainer Team until 2008. She currently serves as the Education Director for FiTOUR®. In her current position with FiTOUR®, Dolly conducts research and is involved in the development of FiTOUR®'s educational programs.  Dolly has been the featured presenter in nine FiTOUR certification DVD's and has authored/contributed to six FiTOUR manuals.
In 2010, Dolly presented her signature H.E.A.T. Aqua Boot Camp workshop at IDEA World in Los Angeles. Dolly's Aqua programs are specifically designed to get fitness enthusiasts and athletes in the pool for conditioning and recovery.
Dolly spends time at her homes in Fairhope, Alabama and Destin, Florida with her husband. During her spare time, she enjoys kayaking, boating and participating in 10K's, half-marathons & triathlons.
Dolly has been certified as a group fitness instructor and personal trainer since 1989.  She holds 25 fitness certifications including AFAA Personal Trainer and Group Exercise Instructor, ACE Group Exercise Instructor, Balanced Body Pilates Reformer Level I, TurboKick Certification, ISSA/AAAI Yoga Certification, JohnnyGSpinning Certification and 20 FiTOUR specialty certifications.