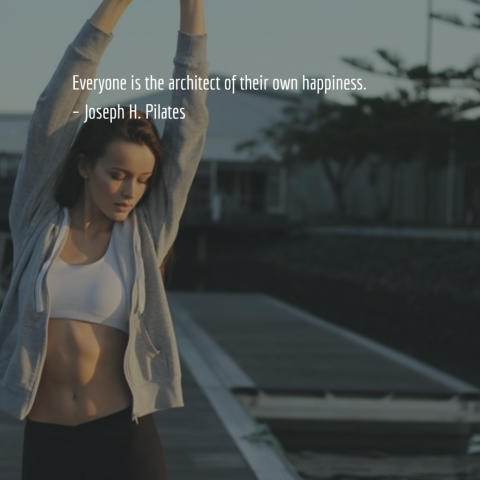 "The art of Contrology proves that the only real guide to your true age lies not in years or how you THINK you feel but as you ACTUALLY are as infallibly indicated by the degree of natural and normal flexibility enjoyed by your spine throughout life.  If your spine is inflexibly stiff at age 30, you are old; if it is completely flexible at 60, you are young."  - Joseph H. Pilates
The benefits of Pilates, or Contrology as it was originally named, are countless.  In his second published book,
Pilates' Return to Life Through Contrology

, Joseph Pilates detailed the fundamental mat work and basics of how his method create mind and body balance that, if practiced consistently, are unparalleled. 
At FiTOUR® we believe Pilates is for everyone.  From athletes to pregnant women to senior citizens, there is real truth to Pilates' belief that your age is directly related to the flexibility of your spine.  The fact is if you want to age gracefully, it is not enough to exert all of your exercise effort on traditional strength or cardio.  Pilates provides a unique balance of core strength, flexibility, balance, and body awareness.  Besides improving the body's ability to move comfortably, as we age improving balance becomes increasingly important.  According to the National Council on Aging, "falls are the leading cause of fatal and non-fatal injuries" for older adults. 
With that in mind, we've created the TOP TEN REASONS TO PRACTICE PILATES:
Restores natural balance and grace

Improves flexibility & posture

Physical & mental strength increases

The body becomes toned and sleek

Prevention of bone deterioration

Stimulates the circulatory system, oxygenating the blood, aiding in lymphatic drainage, and endorphin release

Boosts the immune system

Reduces stress, fatigue, discomfort, and pain

Improves sleep

Improves sexual enjoyment
Including Pilates in your weekly fitness regime is crucial for your long term health and current goals.  It is only with patience, practice, and persistence that you will yield results and improve your mind and body balance.  FiTOUR® can help you create the best plan of practice and improve your well-being with Pilates; check out our special offer for FiTOUR® blog readers!
References:
Pilates' Return to Life Through Contrology
FiTour® Primary Pilates Certification text
NCOA.org 
In Good Health,
-MV