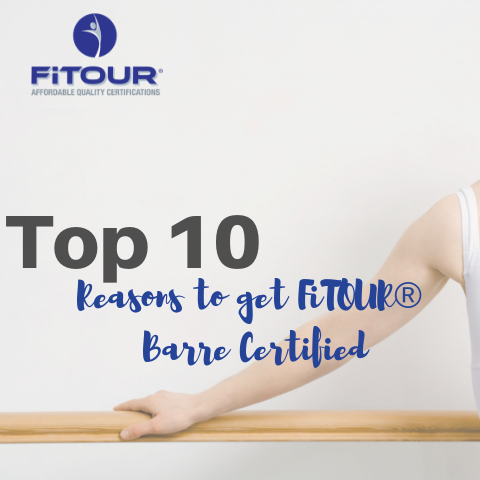 Top 10 Reasons to get FiTOUR® Barre Certified
Barre is a total body workout that combines ballet, Pilates, yoga and light weight resistance with a ballet barre for small, isometric movements.  Barre class is a fun, high-energy music driven class with a creative class format that allows for instructors to be creative while maintaining a safe and fun environment.  If you're asking yourself, "why should I get FiTOUR® Barre certified this year?" check out the FiTOUR® Top 10 Reasons to get Barre Certified!
Top 10 Reasons to Get FiTOUR® Barre Certified
10) Barre fitness burns calories and fat during the fast paced, energizing sixty minute session.
9) Low impact exercise that protects joints
8) Much like Pilates, Barre can strengthen and improve flexibility without bulk
7) Barre fitness restores natural balance and coordination with movements that target the core
6) Improve posture and alleviate back pain with the focus on proper alignment and lengthening.
5) Barre fitness stimulates the circulatory system
4) Reduces stress, fatigue, discomfort, pain, and increases focus with the Barre format.  
3) Barre fitness boosts the immune system and prevents bone deterioration
2) Is the hottest fitness format in the industry today that will have members begging for more Barre classes.
1) FiTOUR® has the best price on Barre certifications in the industry and you can study and test at home!