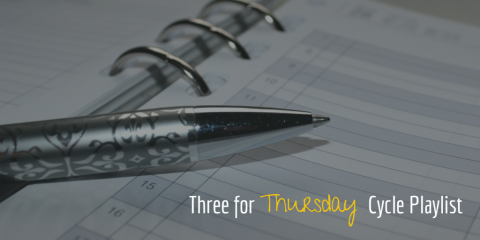 It's official – summer is here!  It always seems like a rush at the gym, similar to the New Year's Resolution rush.  New faces pop up in class, the weight room is full of college kids, and the parking lot is packed.  Today Cycle and Sculpt class was full; folks were asking bring extra bikes in!  As with any fitness class, safety comes first.  Form is critically important to keep participants safe; beyond that, though, the environment of the class matters.  Today the room got hot and sweaty and the floor became slippery.  It is important to cue for caution and use safe practice when conditions change.  In class today the mats came out to help keep participants safe and the workout was great.
Three for Thursday was the theme today in class and it was fast and hot!
Wild Ones (FloRida)
Run (FloRida)
Right Round (FloRida)
Work It (Missy Elliot)
One, Two Step (Ciara, feat Missy Elliot)
Get UR Freak On (Missy Elliot)
Making Me Dizzy (TIesto)
Get Down (TIesto)
The Right Song (Tiesto)
Firework (Katy Perry)
Dark Horse (Katy Perry)
Hot N Cold (Katy Perry)
Animals (Maroon 5)
Moves Like Jagger (Maroon 5)
Lucky Strike (Maroon  5)
(I Like it When You) Smile (Harry Connick, Jr.)
A Wink and a Smile (Harry Connick, Jr.)
It Had to Be You (Harry Connick, Jr.)
Enjoy the Ride!
*Check out our SPECIAL OFFER for our Blog Readers*
In Good Health,
MV