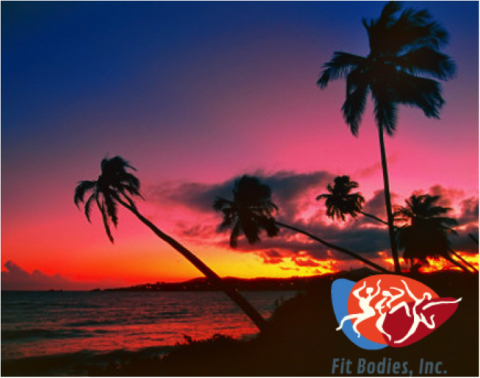 Fit Bodies, Inc. is a long time partner and friend of FiTOUR©. In fact, it was a Fit Bodies teaching trip that took our Founder and CEO, Robert Ottis, to the Dominican Republic over 10 years ago to teach yoga at a resort. Robert fell in love with the DR and eventually moved there and calls it home today. We asked Fit Bodies founder, Suzelle Snowden, to tell our customers a bit more about teaching vacations and where they may take you!
Teaching vacations are often and by far the most economical way to take a luxury, all-inclusive resort vacation. This service allows for fitness instructors to work with resort guests while gaining quality experience, and vacation time with light teaching schedules. Instructors of group exercise, yoga, pilates, Zumba, indoor cycle (Spin), personal training, tennis and golf can offer classes in exchange for resort accommodations and amenities. The instructors and included companion(s) are treated like paying guests of the hotel while the teacher offers 1-2 sessions each day to resort guests. It's a pretty sweet deal for the instructor who simply loves to share fitness, and enjoy luxury vacation time.
Fit Bodies, Inc. has been making these teaching vacations happen for over 20 years. Their booking site, FitnessProTravel.com, offers all members the ability to view teaching vacation opportunities. The site shows real time availability, 24/7. Approved members search when they want to teach, or where they want to go or what formats they want to teach. With over 65 resorts through five countries, Fit Bodies, Inc. offers the ability to book for last minute or up to 14 months in advance. Indoor cycle and Spin instructors have some extraordinary resort studios to teach from! For the indoor cycle instructor who teaches additional formats there are some exceptional locations to mention: Couples Tower Isle, in Ocho Rios and Couples Swept Away, in Negril, Jamaica. Even ground transportation is included for the instructor and their companion at this 'no tipping allowed' resort chain. Couples Resorts makes fitness a priority for their guests with excellent, healthy cuisine and juice bars on property. Sticking in Jamaica for a moment, there is Hedonism II in Negril, Jamaica.
The president and founder of Fit Bodies, Inc. designed this gym with a lovely indoor and air-conditioned space for the Spin or indoor cycle instructor who offers other fitness formats. Hilton Rose Hall is a family resort accepting the instructor, an adult companion and up to two children 17 or younger! What a great deal for a family trip! Offer another land cardio format to ideally qualify for this Jamaica position. Moving over to Cancun, Secrets The Vine is ideal for the Cancun bound indoor cycle instructor who also offers another format, like yoga. With a great schedule of 8:30 yoga and 9:30 A.M. indoor cycle from a studio overlooking the pool, beach and ocean. Amazing. Dreams Riviera Cancun is another family location. Take an adult companion along and up to two kids 12 or younger to this world-class luxurious family destination. From Explorer's Club for kids 3-12 and 24-hour room service, this family resort only requires you to teach one format and indoor cycle is perfect!
If you are not yet a member on FitnessProTravel.com, it's time to think about teaching abroad and enjoying great benefits. Signing up never carries a travel obligation as even the Basic (free) members of the site have access to view everything available to book, and read the details for each position. When you decide to place a booking, it's confirmed the same day so you have permission to handle your own flights. Instructor expenses include a weekly booking fee and gift fund contribution totaling $525-650 and covers instructor and included companions for Sunday-Sunday travel (teaching on non-travel days). Flights are instructors' responsibility, as is ground transportation to and from the resort. The biggest benefit of this program is touching resort guests in ways you cannot imagine.
"You never know who you are going to impact, and empower." -Suzelle Snowden, President and founder of Fit Bodies, Inc.
Fit Bodies, Inc. is headquartered in Covington, KY.