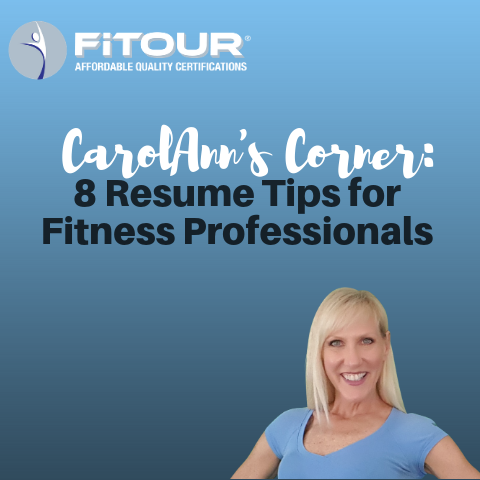 Why Fitness Professionals Need an Updated Resume
You never know when opportunity might come knocking.  When it does, do you want to ask it to wait so you can prepare your resume? No!  We recommend fitness professionals keep an updated resume for those exciting opportunities.  Maintaining a resume is also good practice because instructors add formats, attend workshops, and take online courses annually to stay on trend and relevant; when your resume is kept up to date those educational opportunities or new work experiences don't fall through the cracks.  
September is update your resume month.  This is also a great time to evaluate if you need personal liability insurance.  FiTOUR® recently partnered with Insure Fitness Group to bring our instructors incredible savings on insurance.  Protecting yourself and your assets is worth the small annual fee.  To learn more about all IFG offers click here. 
Grab these 8 Resume Tips for Fitness Professionals and refresh your resume today!
Vision & Mission Statement Vs. Objective:  Let the prospective employer know where you want to go professionally (vision) and what you offer, to whom you offer, and how (mission).  Vision and Mission give more meaning to one's overall objective.

Present a Brand:  When you package up your resume like a brand, prospective employers see value in what you can do for them….you're the total package.  Express personality, values, and intrinsic motivation.

Remain Current:  Stay in the current vein of health and fitness.  Update your credentials and education on a regular basis so that you stay current.  Prospective employers want to be classic and timeless to sustain longevity but also current in their offerings.

Influence of Change:  Show that you are an influencer of change through listing of social media channels and expressing that you are a developer of tribes.  Prospective employers want to create a sense of connection in their offerings.

Prove Your Roots:  Not only should you show your longevity in the industry through the listing of previous employment, but also, create a track record at remaining at an employment for an extended period of time.  Prospective employers want to feel confident that they are choosing the correct person that will remain on their team for an extended period of time. Prospective employers do not want to waste their time and efforts in training you if you are just going to bounce around among employers.  Show that you will invest in them as they will invest in you.

Community Service:  These days, employers like to contribute to their community and be involved in social efforts.  Ensure that you are listing community service or charity efforts that you support so that they see you care about serving others and that it's not all about "what's in it for me."

Be Coachable:  Prospective employers like a well-seasoned fitness pro, but nobody likes a diva or a "know-it-all".  Express in your resume, your willingness to learn and grow and that you welcome new opportunity. Always be open to learn and be critiqued in order to grow in your profession.  Being teachable will get you many places in this industry and you will develop a great reputation along the way as being easy to work with.

Make an Impact:  Compose an awesome cover letter that expresses your values, qualities, and how you can contribute to the prospective company/employer.  A well-composed cover letter will represent your personality and your energy to keep the employer reading further to your resume.