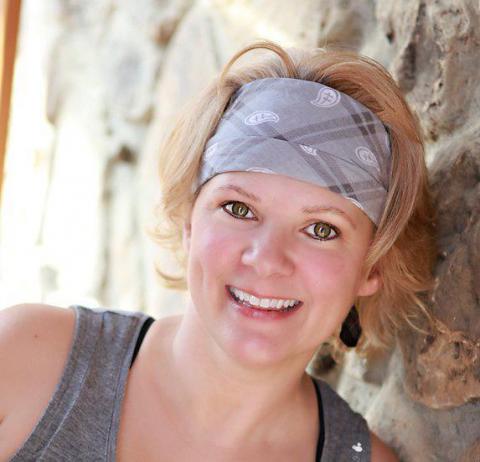 I caught up with FiTOUR® ProTrainer Joyce Hayes shortly after her Primary Group Exercise Certification Workshop to get her take on succeeding with fitness.  As a veteran ProTrainer, Joyce has helped hundreds of instructors get their start and nurtured their professional development.  Her positive energy and motivating spirit are evident to anyone who meets her. 
MV How long have you been in fitness and what are your certifications?
JH I've taught fitness for twenty-two years.  I am an AFAA Examiner, FiTOUR® ProTrainer, American Canoe Association Canoe I & Kayak II Instructor, and BSA Voyageur Staff Instructor.
MV When did you first fall in love with fitness?
JH I'd love to say it was love at first job…but I went to the gym, for nearly the first year, kicking and screaming.  I did not want to do it.  It was a journey for me; I found great support in group exercise; it was the only way I'd actually work out.  I made great friends in group classes and we forced each other to be accountable and make the workouts fun.  Now it is an addiction to see my friends, work hard, laugh, and say "what workout are we doing together…?"
MV What is the biggest challenge you face as a fitness instructor?
JH Stereotyping body types and trying to help people with unrealistic expectations of how fast they can change their bodies.  I try to focus on the "fun" factor and the social aspects of working out.  It is healthier and keeps people coming back. 
MV Who keeps you motivated?
JH Working with women and special populations is a passion of mine.  When I see others succeed based on my encouragement, it really doesn't get any better than that! 
MV Describe your ideal nutrition plan.
JH Any nutrition plan that allows a person to eat the type of foods they love without omitting them from their diet, and still conform to a healthy intake and balance.  I despise the word "diet" and rarely allow my clients to use it.  We want to tweak the food we like and become healthy at the same time.  One of my favorite recipe books is by Bill Phillips, Eating for Life.  It doesn't count calories – it's just good, balanced portions, and variety. 
MV What is your nutritional weakness and how do you keep it in check?
JH I love sweets!  I have found that a small portion, maybe under 100 calories, is perfect.  Or I can use a supplement shake with almond milk, non-fat puddings, or frozen fruit.  If I take sweets out, I'll fail.  The key to success is to find ways to incorporate appropriate portions of foods you love. 
MV What do you do for your active recovery days?
JH I am an outdoors enthusiast.  You'll find me on the waterways paddling in the sunshine, refreshing my body, mind, and spirit.  If life permitted, I'd be outside every day!
Succeeding with fitness is a journey for many of us.  Saturday Joyce talks with us about how to turn a work-out into a fun-out to keep her clients encouraged and motivated.
*Check out the SPECIAL OFFER for our Blog Readers*
In Good Health,
MV