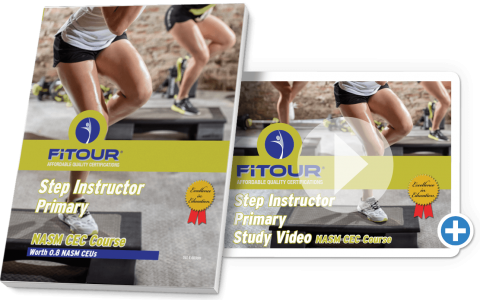 FiTOUR® is offering courses which are approved by the National Academy of Sports Medicine (NASM) for Continuing Education Credits (CECs). The FiTOUR® Step Instructor Home Study Course is approved for .8 NASM CECs.
This is a NOT a Certification, this is a cec course to obtain cecs used to renew an NASM Certification.

Language of Materials and Exam:
Program Overview:
The FiTOUR® Step Instructor Home Study Course provides the tools necessary to lead safe exercise using a step:
Learn about the history of step aerobics and important research on safe execution of movements.
Understand kinesiology, physiology and biomechanics as they are related to exercise using a step.
Understand risk factors, safety guidelines including equipment set-up and music speed for safety when using a step.
Learn proper equipment set-up and how to properly execute movement when using a step during group exercise classes and personal training.
Learn step terminology and stepping techniques.
Learn step choreography and how to properly cue step movements.
Benefits of Completing the FiTOUR® Step Instructor Home Study Course:
Successful completion of the FiTOUR® Step Instructor Home Study Course will provide employers and students with confidence in your professional skills.  Obtaining a passing score on the online examination will earn you the mark of excellence evidenced by dedication to increasing your knowledge of exercise when using specialized equipment such as the step.
Personal trainers and group exercise instructors will gain the benefit of understand the biomechanics involved when utilizing step equipment and safety guidelines to provide safe & effective training programs.
Study Materials:
The online study materials for this FiTOUR® home study course listed below are FREE with registration. All FiTOUR® online examinations are based on the content of the study materials. FiTOUR® encourages participants to thoroughly review the study materials prior taking the online written examination to ensure a passing score.
FiTOUR® Step Instructor Online Study Manual - $19.99 -- FREE!
FiTOUR® Step Instructor Online Study Videos - $24.99 -- FREE!