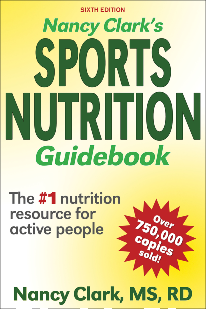 Improve your health and the quality of your life through balanced eating! The FiTOUR® Primary Sports Nutrition Certification provides a unique, self-paced plan that shows you how to teach your clients to improve your eating habits in ways that fit their lifestyle.
Language of Materials and Exam:
Featured Reviews
Great Information! Great Course!
I just finished my Primary Nutrition Re-Certification. I have been in Group Fitness for 30+ years now and have followed Nancy Clark for many of these. Her information is easy to follow, share and use on a daily basis. I recommend all Primary Group Fitness Instructors to take this course. You will learn a lot and understand so much more of what is going on with your body while you are training.
Posted April 12, 2016 by Sharon Hogg from Curry, Alabama
Excellent Course and Test
I really like the guidebook and the study guide. I felt that Nancy Clark has a broad and intelligent understanding of nutrition. The book is an easy read and I even laughed at some of the comments she made. The guide book was very helpful to studying and the test was excellent!
Posted July 11, 2013 by Shelly Jordan from Greer, SC
liked it!
Posted October 3, 2012 by tyson shirey from Lubbock, TX
Program Overview:
This practical, research-based strategy addresses the root causes of unhealthy eating, and gives you the tools to succeed in eating better. The FiTOUR® Primary Sports Nutrition Certification course will focus on strategies that show how to choose the right balance of the right foods for optimal health, set realistic goals and rewards, and cope with triggers for unhealthy eating. You'll also learn other helpful tips:
Keep healthy eating in mind while shopping for food
Eat well when dining out or away from home
Make sense of nutrition information and diet product claims
The course textbook, Nancy Clark's Sports Nutrition Guidebook, contains checklists, charts, and other features that will help you personalize the program and keep it fun all the way through. Fad diets offer only short-term results that often do more harm than good. Healthy Eating Every Day is a sensible, step-by-step lifetime plan that works!
Get as serious about your diet as you are about your sport. The FiTOUR® Primary Sports Nutrition Certification prescribes just the right combination of foods, fluids, and supplements to get your clients across the finish line in record time.
Study Materials:
All FiTOUR® certification exams are based on the content of the study materials. FiTOUR® encourages participants to review the study materials in advance of the certification to ensure a higher examination success rate.
Nancy Clark's Sports Nutrition Guidebook - $19.99 -- Included FREE!
Official Certification Textbook Study Guide - $19.99 -- Included FREE!
Practice Examinations are available for all certifications - $9.99