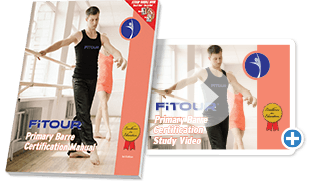 The FiTOUR® Primary Barre Certification prepares instructors to teach exercise classes based on the barre technique, a workout that combines elements of ballet, Pilates, yoga and light weight training. The Primary Barre Instructor Certification provides the knowledge instructors need to teach participants to use their own body weight for resistance training and to use the barre, small exercises balls, resistance bands and light hand weights as props to aid in reaching the goal of a lean, strong body.
Created for each and every unique body type, the FiTOUR® Primary Barre Certification trains instructors to incorporate concise isometric movements to develop long and lean muscles for all participants. Instructors of all ages and sizes take their class on a journey to tighter glutes, leaner legs, and more toned arms (all with the help of great music!). No matter one's fitness level, fitness barre offers a one-of-a-kind workout experience that will have students coming back for more!
It is suggested that the barre instructor complete the FiTOUR® Primary Certification prior to beginning the FiTOUR® Advanced Barre Certification.
Language of Materials and Exam: