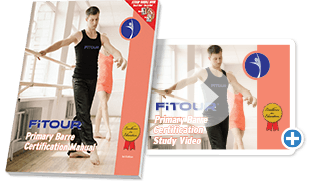 The Primary Barre Certification prepares instructors to teach exercise classes based on the barre technique, a workout that combines elements of ballet, Pilates, yoga and light weight training. The Primary Barre Instructor Certification provides the knowledge instructors need to teach participants to use their own body weight for resistance training and to use the barre, small exercises balls, resistance bands and light hand weights as props to aid in reaching the goal of a lean, strong body.
Created for each and every unique body type, the FiTOUR® Primary Barre Certification trains instructors to incorporate concise isometric movements to develop long and lean muscles for all participants. Instructors of all ages and sizes take their class on a journey to tighter glutes, leaner legs, and more toned arms (all with the help of great music!). No matter one's fitness level, fitness barre offers a one-of-a-kind workout experience that will have students coming back for more!
It is suggested that the barre instructor complete the FiTOUR® Primary Certification prior to beginning the FiTOUR® Advanced Barre Certification.
Language of Materials and Exam:
Program Overview:
The FiTOUR® Primary Barre Instructor Certification prepares instructors to help participants gain the many benefits from this class format. This certifications covers the below topics:
Fundamentals of the barre technique
8 principles of the barre technique
Terms of fitness and musculature anatomy
Barre technique safety
Barre music selection
Barre class formatting and exercises
Burning calories and fat through the barre technique
Gains in joint protection through the barre technique
Protection of bone mass
through the barre technique
Gains in strength and flexibility through the barre technique
Restoration of natural balance
through the barre technique
Improved coordination and posture through the barre technique
Reduction in stress and fatigue and stimulation of the circulatory system through the barre technique
How the barre technique is applicable to all fitness levels
New/Additional fitness tools, including small exercise balls, resistance bands, light weights and the ballet barre
Use of body weight exercises to perform resistance training
Development of more toned arms, glutes, abs and thighs for participants through the barre technique
Formatting of all benefits of the barre technique delivered in a fun and effective 60-minutes class 
Benefits of Completing the Primary Barre Instructor Certification
Successful completion of the FiTOUR® Primary Barre Instructor Certification will equip you with the skills needed to design and teach safe and effective barre classes that are composed of a combination Pilates, yoga, barre, light weight training and ballet.
Successful completion of the FiTOUR® Primary Barre Instructor Certification will prepare you to format a fun barre class that will aid your participants in reaching their goals to be lean and strong.
Obtaining a passing score on the FiTOUR® Primary Barre Instructor Certification examination will demonstrate, to both your employers and students, your dedication to expanding your knowledge through study.
Study Materials:
The FiTOUR® online study material for this FiTOUR® certification listed below is FREE with registration. All FiTOUR® certification exams are based on the content of the study materials. FiTOUR® encourages participants to review the study materials in advance of the certification to ensure a higher examination success rate.
FiTOUR® Primary/Advanced Barre Instructor Online Study Manual- $19.99 -- FREE!
FiTOUR® Primary/Advanced Barre Instructor Online Study Videos- $24.99 -- FREE!
FiTOUR® Primary/Advanced Barre Instructor Hard Copy Study Manual --  $20! 
Practice Examinations are available for all certifications - $9.99