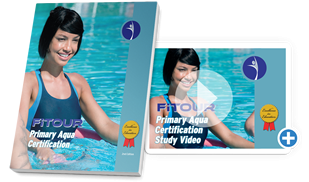 Aqua Fitness is the wave of the future for Group Fitness Instructors and Personal Trainers. Become a Certified Aqua Fitness Instructor through successful completion of FiTOUR®'s comprehensive water fitness certification program.
Make an impressive splash with your employers, students and clients by completing the FiTOUR® Aqua Fitness Instructor Certification Program. Whether you choose FiTOUR®'s In-Home Study Program or Certification Workshop Program, you will learn the skills and knowledge necessary to be a successful personal water fitness instructor.
Language of Materials and Exam:
Program Overview:
The FiTOUR® Aqua Certification Program and Exam will provide the tools necessary to provide a safe aqua fitness program in an aqua fitness class or in a one-on-one aqua personal training session.
Obtain a work knowledge of the Properties of Water and how to apply them to aqua fitness training programs
Understand Kinesiology, Physiology and Biomechanics and how water fitness relates to each topic
Understand risk factors, safety guidelines and working with Special Populations
Learn how to design an aqua fitness programs for water fitness classes or for water personal training
Benefits of Becoming a Certified Aqua Fitness Instructor

Successful completion of the Aqua Fitness Certification Program and obtaining a passing score on the Aqua Certification Exam provides employers and clients with the mark of excellence through dedication to expanding your knowledge through study to become a  Certified Aqua Fitness Instructor  with FiTOUR®'s Aqua Fitness Certification Program.

Study Materials:
The online study material for this FiTOUR® certification listed below is FREE! with registration. All FiTOUR® certification exams are based on the content of the study materials. FiTOUR® encourages participants to review the study materials in advance of the certification to ensure a higher examination success rate.
FiTOUR® Aqua Online Study Manual - $19.99 -- FREE!
FiTOUR®

Aqua 

Online Study Videos - $24.99 -- FREE!
FiTOUR®

Aqua

/Group Exercise

 Hard Copy Study Manual -- $20!
Practice Examinations are available for all certifications - $9.99