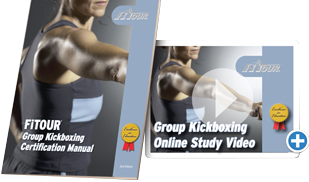 Kick-up your Group Exercise Instructor teaching skills by successfully completing the FiTOUR® Kickbox Certification.
Kickboxing is one of the most popular class formats found in health clubs around the world.  The FiTOUR® Kickbox Certification Program will provide you with the knowledge and skills needed to provide your students with a safe and effective fitness-based kickbox program.
Language of Materials and Exam:
Program Overview:
Upon successful completion of the FiTOUR® Kickbox Certification, you will:
Understand Kinesiology, Physiology and Biomechanics and how each component translates in a Kickbox class
Understand risk factors, safety guidelines and working with Special Populations
Learn how to design a safe Kickbox class
Learn proper technique and how to instruct students to perform kicks and punches while avoiding injury
Benefits of Becoming a Certified Kickbox Fitness Instructor
Provides employers and clients with the mark of excellence through dedication to expanding your knowledge through study to become and Certified Kickbox Instructor
Easy and affordable re-certification process which only costs $25 and taking a 25 question renewal examination

Study Materials:
The online study material for this FiTOUR® certification listed below is FREE! with registration. All FiTOUR® certification exams are based on the content of the study materials. FiTOUR® encourages participants to review the study materials in advance of the certification to ensure a higher examination success rate.
FiTOUR®

Group Kickbox 

Online Study Manual - $19.99 -- FREE!
FiTOUR®

Group Kickbox

 

Online Study Videos - $24.99 -- FREE!
FiTOUR®

Group Kickbox/Group Exercise

 

Hard Copy Study Manual -- $20
Practice Examinations are available for all certifications - $9.99