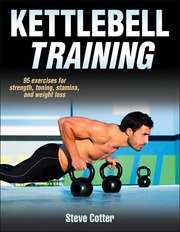 Kettlebells are effective and inexpensive and used by exercise enthusiasts and athletes around the world for fat loss and the building of strength, stamina and coordination. Kettlebells make traditional dumbbell moves more challenging since the weight of a Kettlebell is not evenly distributed and your stabilizer muscles have to work harder to complete the exercise.
The FiTOUR® Kettlebell Training Certification prepares instructors and personal trainers to work with their clients to set goals, to perform needed assessments and select safe and effective exercises. 95 exercises are covered in this certification in step-by-step detail with photos and training tips.
Language of Materials and Exam:
Study Materials:
All FiTOUR® certification exams are based on the content of the study materials. FiTOUR® encourages participants to review the study materials in advance of the certification to ensure a higher examination success rate.
Kettlebell Training - $19.99 -- Included FREE!
Official Certification Textbook Study Guide - $19.99 -- Included FREE!
Practice Examinations are available for all certifications - $9.99