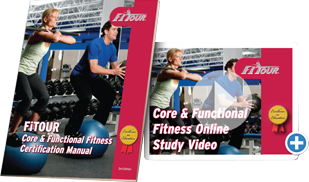 NEW & IMPROVED!  The FiTOUR® Core & Functional Fitness Certification is a two-part program in one certification! The knowledge and skills you obtain will give you the tools to effectively progress your clients and students with balance training and functional movement so that they can reach optimal levels of fitness. Learn how to incorporate functional movement, balance activities and muscle strengthening into safe and effective fitness programs.
Language of Materials and Exam:
Featured Reviews
This a course everyone should take!
Its important for all Fitness modalities to know the content of this course! I recommend.
Posted May 9, 2014 by Veronica from San Marcos, CA
Very Informative!!!
There is a lot of expert information that i've learned from studying for and passing this certification. I am now a better and safer trainer because of Fitour :)
Posted January 9, 2012 by Anonymous
Great information - easy to follow formatting for class
The Primary Core and Functional Fitness manual gives great information that, if applied to a class format or for the Personal Training Client according to the guidelines listed therein, will provide safe and effective programming!
Posted June 3, 2010 by Monica from Kennesaw, GA
Program Overview:
Functional training is the future of Group Exercise and Personal Training. Stay ahead of the pack by joining an elite team of fitness pros who incorporate core & functional training into their fitness programming and design. Personal Trainers and Group Exercise Instructors alike will benefit from the FiTOUR® Core & Functional Fitness Certification.
Improve Performance! Part I of this course is full of information on program design, exercises and training techniques for general fitness and fitness athlete clients/students.  You will learn how to create comprehensive and balanced core & functional training programs.  Learn challenging exercises using medicine balls, balance equipment and sports-conditioning drills to progressively improve core strength & functionality which, in turn, will result in improved performance.
Improve Quality of Life!  Part II provides an in-depth look at the obstacles faced by Active Older Adults and how to improve their functionality through fitness programming to lead to higher quality of life.  If you train Active Older Adults, this course is a MUST!  You will learn strategies to create programs that will implement full body strength and function with activities that are fun yet challenging.
At the conclusion of the course, you will understand how to safely and effectively implement and develop core & functional programming for one-on-one training, group training, circuit training, flexibility, and on-the-road fitness programs.

Study Materials:
The online study material for this FiTOUR® certification listed below is FREE! with registration. All FiTOUR® certification exams are based on the content of the study materials. FiTOUR® encourages participants to review the study materials in advance of the certification to ensure a higher examination success rate.
FiTOUR®

Core & Functional Fitness 

Online Study Manual - $19.99 -- FREE!
FiTOUR® Core & Functional

Fitness 

Online Study Videos - $24.99 -- FREE!
FiTOUR® Core & Functional

Fitness 

/Group Exercise

 

Hard Copy Study Manual -- $20
Practice Examinations are available for all certifications - $9.99