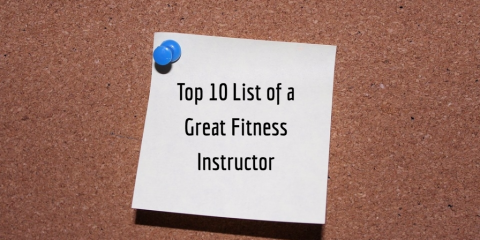 While I love and appreciate my job teaching fitness, I wonder what the participants in the rooms of Group Fitness Instructors expect.  What drives them to group fitness and why do they keep coming back?  I asked my nearest and dearest this question:  WHAT MAKES A GROUP FITNESS INSTRUCTOR GREAT? 
TOP 10 List of a GREAT Fitness Instructor
10. Do not over-talk.  You needn't fill the void with babble.
9. Keep it fresh.  Try something new once in a while; stay current in CECs and keep class exciting.
8. Set a good example for healthy living.  Practice what you preach as a fitness instructor. 
7. Music makes the difference in motivation.  When it is timed to the movement the class flows perfectly.
6. Be energetic and motivating; The room should feel positive and purposeful.
5. Connect with the participants and be real.  Acknowledge their efforts, but don't focus on their mistakes; correct them kindly and keep moving.
4. Modify and progress exercises to account for the variety of fitness levels in a class.
3. Treat participants kindly inside and outside the class; try to remember names and make them feel as though they are welcome and matter, because they do!
2. Come prepared.  Know exactly how you will fill the 45-60 minutes by having a plan.  Their time is valuable, remember that.
1. Know your stuff.  Understand the format and understand the exercises you are asking them to do.  Know which muscles you are engaging and the proper form of the movement. 
If teaching Group Fitness is your passion, keep the Top 10 List of a Great Fitness Instructor in mind at your next class and give them the best workout they've had all week!
*Check Out the Special Offer for our Blog Readers*
In Good Health,
MV