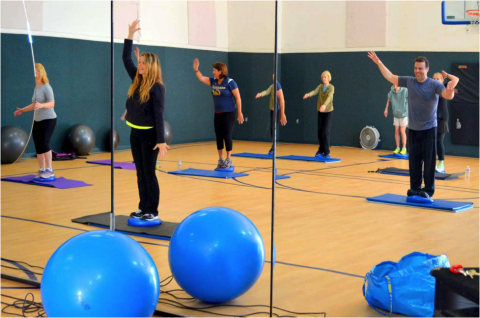 With a background in fitness and dance aerobics, Tracy became a FiTOUR© certified trainer in aerobics and step at a FiTOUR© workshop in 1994. Since then, Tracy has become a successful business owner, teacher and FiTOUR© Master Trainer, leading FiTOUR© workshops in Florence, Oregon. Tracy's own education and training programs that she runs at her gym in Florence are making waves and changing lives due to the ingenuity, care and experience Tracy brings to them. 
Working at a chiropractic clinic, her very first personal training client was a woman in a wheel chair with Multiple Sclerosis (MS). At that time, Tracy had no idea what MS was or how to train her client, but she quickly learned. As time went on, Tracy had clients with Lupus, Fibromyalgia, and other clients leaving physical therapy who needed further training and support. Tracy studied and educated herself on arthritis, fibromyalgia, osteoporosis and diabetes, focusing on how exercise affects these illnesses.
Tracy began to realize that being a personal trainer meant working with clients whose bodies were not perfect, and often deficient, and she was challenged by the fact that physicians and physical therapists only focused on the core muscles during treatment post-injury. She continued her studies of the spinal system and the core. Tracy began incorporating education about the muscle groups and using tools like balls and balance trainers with her clients. She developed a curriculum called "Understanding Your Core" which she taught at the local college and her gym.
Tracy continues to attract clients who have experienced debilitating injuries. Many of her current clients include stroke victims. She educates them about their muscles and provides unique, gentle training using balance balls. She has seen so much progress with these clients. The results are inspiring.
We are proud to call Tracy a FiTOUR Master Pro! Visit her site tracyspersonaltraining.com.