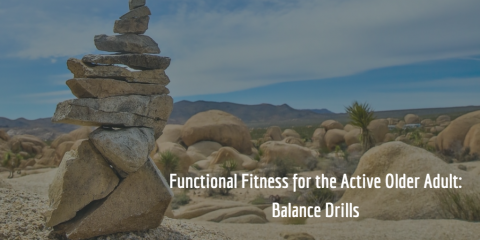 In September FiTOUR® focused on Core & Functional Fitness exercises using a variety of tools: the medicine ball, stability ball, balance disc, and BOSU.  This month, while our concentration remains on Functional Fitness, our focus shifts to applying these training techniques to the Active Older Adult population. 
As a fitness trainer/instructor to Active Older Adults, it is critical to understand the goals of the client or class participants.  As we age, our fitness goals most likely change and often our focus shifts to provide training options that continue to build the clients fitness levels needed for activities of daily living and to maintain a high-quality of life. 
The goal of a trainer/instructor is to provide high quality fitness to improve muscular strength and endurance, cardio vascular strength, flexibility, and functional movement.  However, the mode of the fitness programming needs to consider any physical issues related to the aging process that may require modifications.
According to the National Council on Aging (NCOA) falls are the "leading cause of fatal and non-fatal injuries for older Americans.  Every 11 seconds, an older adult is treated in the emergency room for a fall."[i]  Falls are preventable.  There are a variety of lifestyle changes Active Older Adults can make to decrease the likelihood of falling – top of that list is EXERCISE.  By participating in Functional Training Active Older Adults can:
Increase bone density
Improve coordination
Improve or maintain flexibility
Improve functional movement
Improve strength and endurance
Improve posture
Improve balance
Prevent injury
Maintain functional independence and a higher quality of life
Balance Drills are top on the list of functional training exercises for Active Older Adults.  FiTOUR® recommends Balance Drills be included in each functional fitness training to have a real impact.  Balance drills should be performed 1-3 sets of 5-10 repetitions.  These drills improve stabilization of the hip, knee, and ankle joints.  They also target the stabilizers located deep in core muscles of the torso.  Balance exercises should progress from seated to standing and finally to moving.  We really like the Stability Ball for work with our clients; try these exercises today!
In Good Health,
MV
*Check out the SPECIAL OFFER for our Blog Readers*