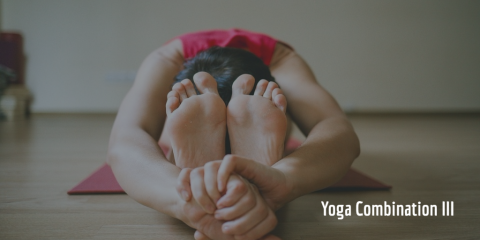 The Yoga Combination III focus is on flexibility.  Often, because busy schedules limit time for exercise, flexibility is overlooked.  With regard to aging, though, maintaining flexibility is of the utmost importance.  Flexibility is part of our everyday activities:  bending to unload the dishes, tie our shoes, picking up kids, even getting out of bed.  Flexibility training allows for continued mobility and helps prevent back pain.  The more active and flexible an individual remains the better the body will age. 
FiTOUR® Yoga Combination III is an excellent yoga sequence to improve flexibility and maintain full range of motion for the joints.  Begin with Yoga Combination I to warm up and incorporate Yoga Combination II within this sequence as described below:
Standing Back Bend in Wide Stance
Standing Straddle Splits
Yoga Combination II Transition
Extended Side Angle
Triangle
Pyramid
Warrior I
Warrior II
Reverse Warrior
Pigeon
Yoga Combination II Transition
Extended Side Angle (other side)
Triangle (other side)
Pyramid (other side)
Warrior I (other side)
Warrior II (other side)
Reverse Warrior (other side)
Pigeon (other side)
Yoga Combination II
Yoga Combination I
Performed in fluid succession this sequence should take about half of an hour, improve the mind/body connection, and improve flexibility. 
*Check out our SPECIAL OFFER for our Blog Readers*
In Good Health,
MV