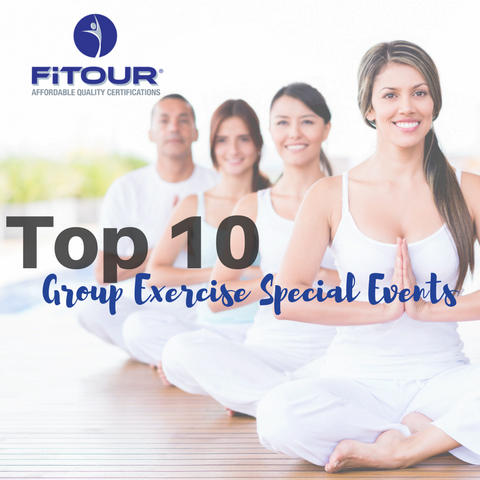 Having a hard time mustering up some good ol' fashioned camaraderie in your group exercise schedule or for your department?  One way a club can get some action going and shed some fun, positive light on the fitness department is to host a series of special events.  
Check out FiTOUR® Certifications Top 10 Group Exercise Special Events and try one at your facility this month:
Mother/Daughter Yoga: A mother/daughter event is a simple idea because any fun fitness format would apply.  Determine how many mother/daughter combos duos your space can hold, create a fitness plan that will work for both mothers and daughters, craft a few bonding or fun activities, and let the good times roll!  Try a few easy partner positions or drills, create a compliment wall with post-it notes, or set up a nail painting station; get creative with non-fitness gal-pal activities and watch as the moms and daughters connect!

Father/Son Skills and Drills: The gents should get in on some fun fitness love action, too!  Plan a morning of sporty skills mixed with cardio drills and it's game on!  Wrap the event up with a group basketball game or partner drills and call it a win.  Depending on the age of the children, some kids might enjoy a tattoo station or physical challenge stations.  Get creative and mix it up for the group. Best to require registration so the age groups are known in advance and everyone's needs can be met.

Family Bootcamp:  You know what they say, families who exercise together stay together!  These events are geared more toward the children and nurturing family teamwork than they are designed to get mom and dad a high calorie burn.  Be mindful that children of all ages will be present, and design the activities with a variety of skill levels involved. Ask the families to work through an obstacle course or encourage the creative and brainier folks to work through complex word problems or a clue sequence.  Accomodating the variety of interests within a family and mixing those interests into a fun, family bootcamp event will pull families together and your members out of the woodwork!

Fright Night:  Near Halloween a Fright Night fitness class, or themed series of classes, will motivate and inspire your members and staff!  Encourage the fitness staff to dress up, theme their playlists, and decorate the rooms as spooky as you can afford! Making little changes to the ambience, killing the lights and bringing in black lights or cobwebs at the doors, will make a huge impact on your participants.  Everyone will be psyched to come to the gym for Fright Night!

Friday Night Glow Cycle: Remember when Friday night was a party?  Week after week, Friday night was the night for action.  Keep the momentum rolling at the gym each Friday night with a fun, special event that mixes a dark room, fun lights, and great music with indoor cycle.  It will feel like the old days dancing at a club - just without the fuss of having to get all dolled up in high heels! Indoor cycle is basically a party waiting to happen.  

Core & Coffee: Schedule a monthly Core & Coffee gathering for moms during the week to get out of the house, meet other moms, and exercise together.  Then when the strength building ends, send them to the coffee tables and let the bonding begin! Start the group each month with two or three conversation starters to ease the anxiety of meeting new moms.  Sadly, some moms can seem intimidating and judgy - but if the instructor takes the lead and directs the conversation to start it will be smooth sailing!

Valentine's Day Partner Workout: Whether your single and celebrating Galentine's Day or paired up with your one-true-love, a Partner Workout is always a huge hit!  Registration for the event is ideal because members can select their own partner that they are already comfortable getting sweaty with.  Mix up the partner drills with cardio bursts and scorch the calories together!

Christmas Crunch & Cardio:  Christmas is a stressful time of year for many folks.  Whether they've got too much to do, are missing a loved one, or feeling blue - Christmas is a great time to try to shine light into the lives of your members to ease their troubles.  Mix a little Christmas cheer with music or silly costumes into a major cardio sweat sesh, add a serious dose of core work, and watch smiles return while the holiday humbugs fade away.  

Sunday Funday Family Yoga:  Family yoga sounds great on paper.  The truth is, if you are into yoga and good at it, doing yoga with your kids is not the experience you want it to be.  It is less zen and more "SHHHHH sit still… quiet down… listen to directions...quit squirming". Take another approach to Sunday Funday Family Yoga and hire two instructors: one for the kids, one for the parents.  Let the children get their wiggles out while mom and dad have their zen moment - then bring them all back together for a silly set of shavasana and send them on their way. If the two classes are scheduled at the same time each set of age groups will have their needs met and mom and dad will RAVE about how well your facility takes care of their needs & entertains the kids, too!  It is truly a win win!

Glow & Flo: This is a wildly fun event.  Yoga in the dark, with black lights, and glow sticks!  Registration is definitely required for this event because you want each participant to have enough space for his mat and you want to fill the room.  Encourage participants to wear fabrics that will light up with the black lights and pepper the room with Glow sticks. Incorporate glowing balls (find them at the dollar store) into the yoga sequence and experience

If your facility needs an infusion of fun, try one of the FiTOUR® Certifications Top 10 Group Exercise Special Events at your facility today!  We would LOVE to hear how it goes. Send us a private message on Facebook or email melissa@fitour.com with your results.