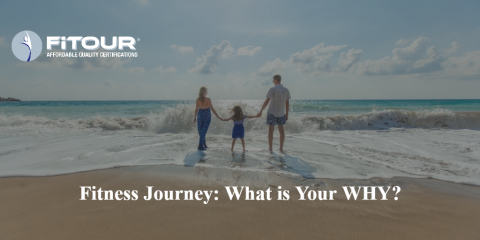 What is your reason, or your why, for working in fitness?  Many of your class participants would benefit from understanding why you do what you do. This week, share with your clients or classes why you do fitness & make healthy choices.  Encourage them to talk about the reasons they have created fitness or nutrition goals.  
For me - it always comes back to being the best, healthiest version of me for my kids.  Keeping up with them, and having fun together while being active, is incredibly important to me.  But also, to be here (on this earth) as long as I possibly can is my primary goal.
After my third child, I was diagnosed with high-blood pressure.  The diagnosis felt like I had been sucker punched.  I was only 35 – how could high blood pressure happen to me?  Immediately, my primary care physician prescribed medication.  I was reluctant to take it because I just wasn't ready to swallow a pill for good health.  Honestly, the bottle sat in my cabinet for a month. 
Around the same time, my aunt was undergoing treatment for cancer.  She and my cousin went in for genetic testing.  At the meeting, with the genetic counselor, my aunt learned an interesting story.  She had given the counselor our family history.  The counselor said, "After looking at all of the test results and your family history, I'm surprised you came to me because of cancer.  Looking at all of the information I have, I'd expect we should talk about stroke." 
My aunt called me after the meeting and asked me, "Melissa, have you taken the medicine yet?"  I said, "No – I just can't wrap my head around it, yet."  She said, "It's got nothing to do with wrapping your head around it – and everything to do with not having a stroke in your thirties – your children need you alive."  She explained what the genetic counselor spoke to her about and I learned that the little red pills I was angry I should take – were just something I needed to do.
While I've been in fitness for nine years and my blood pressure isn't what brought me to it – genetics is basically working against me.  So I invest in myself with fitness.
I think there is value in sharing with your classes what brought you to or keeps you in fitness.  For many of us, it didn't happen in our youth & we all know it isn't about the money. 
Often in the fitness world, these are called our journeys:  the course we are set on in our lane toward wellness.  These stories are effective ways to open communication in your classes or with your clients; if you haven't shared your journey yet, I encourage you to try.  Get to class a little early, or start the story during the warm up and finish in the cool down – you'll be impressed because those faces that you've seen week after week, might start to share with you more and feel more comfortable with you than you expected.  These little connections are often hard to nurture because we're all set on beast mode when we walk into our fitness classrooms, right?  Beast mode is a little bit intimidating though and while it serves great purpose – it's hard to connect with beast mode.
Don't be afraid to share the softer side of why you're in the room teaching fitness, sharing why you do what you do empowers the other voices in the room to share their own struggles and gives them confidence to conquer their goals.