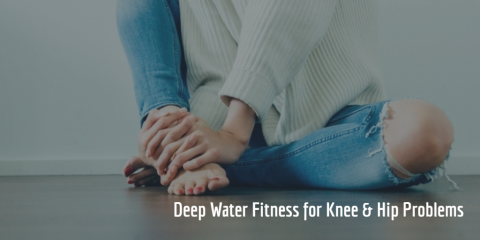 Aqua Fitness is an incredible workout with many health benefits.  It is an optimal format for individuals with knee and hip problems.  Deep Water Fitness is especially effective.
Deep water fitness is ideal because it is not fully weight bearing.  Participants can avoid jerky, rushed movement.  There is no big, bounding or jarring movement or pressure on the joints.  Deep water training provides more hydrostatic pressure that increases metabolism and circulation thereby increasing joint movement and elasticity.  With the support of the water, and floatation devices like an Aqua Jogger, core strength is developed in Deep Water Fitness class.  Balance is also greatly improved. 
There are a few safety precautions to consider for this special population.  For Individuals with knee problems, the knees should remain flexed, do not lock the knee.  Any participants who have had a hip replaced should avoid crossing one leg over the other and hip flexion beyond 90° should be avoided. 
Many will find Deep Water Fitness to be a challenging and fun exercise program.  Those with knee or hip problems will be pleasantly surprised at how much more comfortable it is to exercise in the water than on land.  Consider Deep Water Fitness for your facility's programming and reach out to members with these joint issues to encourage them and help them reach their personal fitness goals.  
*Check out the SPECIAL OFFER for our Blog Readers*
In Good Health,
MV