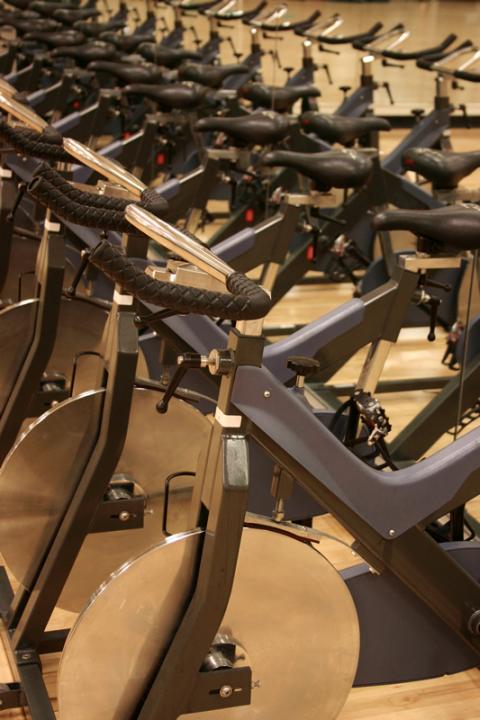 Another week of fitness scheduling, planning, and creating is upon us.  If only we were paid for the hours outside the gym we put into all this prep work.  Could you imagine?  As an instructor of a variety of formats, I know it takes effort to come up with fresh ideas that engage our members and clients week in and week out.  It also takes effort to consistently provide music that motivates and entertains.  Music makes the workout happen; it is the beat we are keeping or the encouragement our client needs to push through one more round.
In cycling, though, music IS THE CLASS.  When the music is ON so is the class.  I get stuck, occasionally, in a music rut or mentally just feel worn out trying to find good songs for my lists.  For the next few weeks, I will share with you the playlist I'll be teaching from.  This week I've put together a good variety using Spotify.  I love Spotify Premium because it allows me to create lists, play them offline, and pull from a wide selection of music.  In settings, I can crossfade the songs and avoid the awkward silence between songs.  If you haven't tried it for your music, give it a shot and let me know what you think.
This weeks list:
Praise You (Fatboy Slim)
Drop It Like Its Hot (Snoop Dogg, Pharrell Williams)
Give Me Everything (Pitbull, NeYo, Afrojack, Nayer)
Drive By (Train)
Burn it to the Ground (Nickleback)
Pump It (The Black Eyed Peas)
Dance Again (Jennifer Lopez)
Another One Bites the Dust - Remix (Queen, Wyclef)
Mr. Brightside (The Killers)
Block Rockin' Beats (The Chemical Brothers)
Under Control (Calvin Harris, Alesso, Hurts)
Moves Like Jagger (Maroon 5)
We Trying to Stay Alive (Wyclef Jean, Refugee All Stars)
Do you want to take your passion for fitness to the next level?  Or are you looking for affordable fitness certifications to maintain your current role as an instructor or personal trainers?  Check out the special promotion FiTour offers our Blog Followers!
Have a GREAT WEEK!
-MV