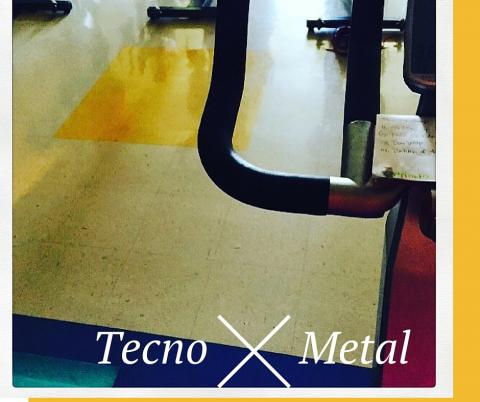 Each week I teach cycle twice.  The first class is purely cycle for forty-five minutes.  The second is a cycle & sculpt format in which we ride for two songs and then exit the bike for one song and sculpt with weights.  Every week in the cycle and sculpt class I feel like I'm getting such an incredible workout.  Joe Franco highlights the benefits of including weight training over on Bodybuidling.com (read full article here):
Drop body fat
Gain strength without bulk
Decrease risk of osteoporosis, heart disease, and diabetes
Improved athletic performance
Reduced risk of injury, back pain, and arthritis
How to incorporate weight training is overwhelming and often stressful for women.  They feel intimidated by the weight room and unsure of what to do.  Instead of hitting the gym, women go to classes that sculpt and tone, using light weights with high reps.  I do not know everything about weight lifting, but I can promise you if you increase the weight and reduce your reps you will notice a difference in how strong you feel much faster. Try something different to get better, faster results -it is a good idea! 
Today in my cycle and sculpt class we got away from the little weight and I asked them to push themselves with heavy weight, for three sets with 12 reps each.  I was impressed!  We were working hard and it was fun!  We cycled through tecno songs and lifted weights during the metal songs.
Tecno/Metal Mix
Shots – Broiler Remix (Imagine Dragons)
Greyhound ( Swedish House Mafia)
Stop (Jane's Addiction)
When Love Takes Over (David Guetta, feat. Kelly Rowland)
Levels – Radio Edit (Avicii)
Dirty Deeds Done Dirt Cheap (AC/DC)
Making Me Dizzy (Tiesto)
Milky Way (Madison Mars)
Bullet with Butterfly Wings (The Smashing Pumpkins)
We Found Love (Calvin Harris)
Off the Hook (Hardwell)
Centuries (Fall Out Boy)
Without You (David Guetta, feat. Usher)
Clap Your Hands (David Guetta)
Head Like a Hole (NIN)
Welcome to the Jungle (Guns n Roses)
Sweet Child O' Mine (Guns n Roses) 
*Check out the SPECIAL OFFER for our Blog Readers*
Enjoy the ride,
MV