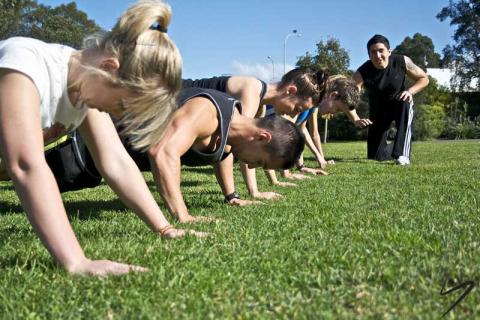 Boot Camps are a hot trend on the fitness scene.  A first of the year Boot Camp is an excellent tool to use to increase revenue and client base.
 When Boot Camps originally hit the fitness scene, they were primarily based on military-style training.  Now you can find Boot Camps which are based on many different methods of training specific to a target population.  Surf the web, pick up a fitness magazine or watch a health and fitness television show and you will see that trainers are cashing in on the "boot camp" concept by offering training that is based more on fitness training than military-style training.
 With creativity and innovative thinking, the sky is the limit as far as the types of Boot Camps that can be offered.  For instance, a mind-body trainer could consider offering a Boot Camp based on the principles of Power Yoga.  A mind-body Boot Camp might be more centered on low impact cardio such as Power Walking combined with Power Yoga and guidance to nutrition using a "yoga-style" approach to diet.
 In order to have a successful Boot Camp, you should develop the program around your strengths and weaknesses, training techniques and knowledge base.  If you have never participated in sports that require running and athletic drills, you may not be comfortable demonstrating and performing athletic drills.  So, rather than attempting to train using techniques and exercises with which you have no familiarity, choose a mode of exercise with which you feel comfortable and base the program on your knowledge and research on that subject.  By choosing a mode of exercise with which you are most familiar, you will be better able to motivate your participants to success.
 One reason Boot Camps are so popular is because training sessions can be held anywhere and are quite often held outdoors.  City parks and recreational venues are excellent sites. Before scheduling and marketing a Boot Camp Program, take the time to contact the appropriate authority to ascertain if special licensing is necessary.  Oftentimes, a small fee for rental of the space may be required.  The small investment of time spent in obtaining this information will be invaluable.  There is nothing worse than having successful registration for a Boot Camp only to have to cancel the program and refund fees because you are not in compliance with the rules of the facility or site.
 Equipment is a factor to consider when setting up your Boot Camp business.  Although equipment is not necessary, it is excellent for providing exercise variety to prevent boredom.   Equipment can also be used to manipulate training techniques which will elicit a better training response.  For instance, push-ups performed on a park bench will elicit a different type of muscle response than push-ups performed with hands on a medicine ball.  While the push-ups on the park bench will engage the muscles of the core, push-ups on a medicine ball will create an overload on the muscles of the core because the medicine ball will increase instability which will result in a greater contraction of the core musculature.
 Keep in mind that the equipment you use will need to be transported to and from the outdoor site and will also have to be stored after the session is over.  Choose equipment that will easily fit in storage bins and will also easily fit into your vehicle.  For example, while dumbbells are excellent for performing muscle conditioning exercises, they may not be the best choice due to the fact that transporting dumbbells can prove quite difficult.  Below is a list of equipment that is relatively inexpensive, versatile, lightweight and easily transportable.
Tubing/Rubber Resistance
Medicine Balls
Yoga Mats
Hurdles
Agility Ladders
Cones
Jump Ropes
To learn more about Boot Camp training techniques and how to set up your own Boot Camp business, join FiTOUR® in 2010 at a Boot Camp Certification.  Contact FiTOUR® to learn how your facility can host a Boot Camp Certification or other fitness certification workshop.  To learn more about convenient, affordable, quality fitness education, go to www.fitour.com.  Dolly Banks-Stokes is Director of Education for FiTOUR® and is the owner of DollyBFitness, LLC www.dollybfitness.com .  More than 250 participants have successfully reached their goals with DollyBFitness Boot Camps since 2005.
By Dolly Banks-Stokes, Director of Education, FiTOUR® www.fitour.com
Owner, DollyBFitness, LLC, Fairhope, AL www.dollybfitness.com
ACE, AFAA, FiTOUR® Certified Professional Fitness Trainer