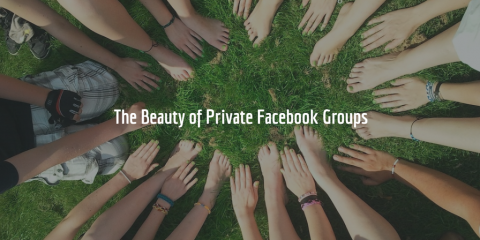 Using a Private Facebook Group for a fitness class is a very simple and fun way to stay connected all week, encourage participants to stay on track and accountable, and share information specifically to the group.  This summer I am teaching Cycle three days a week; I will create a special Private Facebook Group to keep those folks engaged, prepared, and excited for their workouts.  For another class, Synrgy 360, the Private Facebook Group shares recipes, workout ideas, and I post the workout from class for anyone who was absent. 
Personalized for Audience
In a private Facebook group you can choose the audience.  If you teach a class of twelve participants and want to keep a line of communication open with them, a Facebook group fits the bill.  Touch base with the class on topics addressed in class; for example, one woman admittedly drinks diet coke more than she should.  Nudge her with an article on the value of drinking water.  One member in class wants to increase her strength training days but isn't sure how; post a link to a site that might help her.  Specific actionable posts that only the group cares about are key.
Ability to save and share files
Word files can be shared in a private Facebook group for future use.  Goal charts, accountability calendars, or a Plan of Change contract are all useful file ideas to share.  Encourage the class to commit to improvement and stay on track to reach their goals with Files.  Post a .pdf of the workout from class for anyone who missed or a food log for those that struggle with weight loss.  The ideas are limitless and the fact that files can be shared is simply brilliant!
Accountability and Motivation
Class participants occasionally need a kick in the behind to get to class.  The night before or the morning of class a personalized motivational message designed to get them to class is often just the positive push they need to lace up.  Pics of other classmates sweating it out is also great motivation to get people back on track.  A private Facebook group is often the missing accountability link because it keeps the mind focused and positive.
Do you use private Facebook groups?  Share your ideas on our Facebook wall and help us inspire more folks to choose fitness!  *Check out the SPECIAL OFFER for our Blog Readers* 
In Good Health,
MV