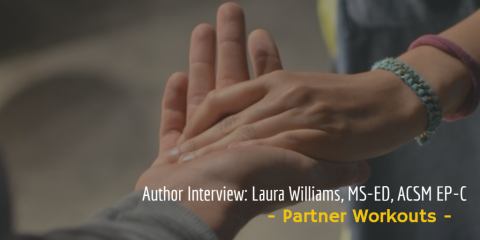 The book Partner Workouts is soon to be released and I had the opportunity to talk with the author, Laura Williams.   In part 1 of my interview with her, we spoke about her career, work with Girls Gone Sporty, and her perspective on careers in fitness today.  She gave me some great tips on incorporating partner exercises into fitness programming and the how-to of some of the delicate challenges that arise.
FiTOUR: What advantages do you see to including partner exercise for classes or with clients?
Laura: Partner Workouts are very motivating and really keep things fun.  In my research, I found extensive studies that link working with partners or groups with exercise adherence.  Simply put, when people are having fun they return to class!  Sometimes it is funny because it is awkward or just silly.   Either way, working together presents so many opportunities to laugh and that humor keeps people engaged.  People are also motivated to attend class by their peers, developing partner routines allows for friendships to be made, and that accountability helps people stay involved. 
FiTOUR: What challenges can occur when including partner workouts in a class and how can those be overcome? 
Laura: There are physiological challenges to overcome.  For instance, I am 6ft tall.  Pairing me with a petite woman creates challenges.  These can be overcome with careful exercise selection.  Another, simple fix is to pair like with like physiologically speaking: a tall person with a tall person, a petite person with a petite person.  If you know your class well, pairing based on shared goals is another good match.  If one woman is working out to gain strength and another to increase cardiovascular endurance, they might approach the workout differently.  Common goals can be a useful pairing method to drive people to succeed. 
Another challenge is class participants who do not want to touch each other.  In these situations, again, careful exercise selection solves the problem.  Choose exercises when the clients do not touch.  One client can perform one movement, while the other performs another: for instance, one runs a sprint away from and then back to the partner performing pushups and then they switch.  These exercises the pair work together, but without touching.  Incorporating equipment, the BOSU or a medicine ball, also provides opportunity to work together without touching.  The exercises in the book are primarily selected for both participants to be actively engaged. 
FiTOUR: Which of the exercises in your book are your favorite, or go to, movements?
Laura: The book is loaded with 70 exercises.  It was a challenge because when it came to photos we had to cut out a bunch of exercises because we didn't have enough space! There were so many additional exercises I wanted to include.  I love when one person holds a plank and the partner does agility drills through their legs; also, when a person holds the ankles of one partner, like a wheel barrel, while squatting and then the person in the wheel barrel does push-ups.
FiTOUR: How does nutrition fit into the book?
Laura: There is one spread in the book on post workout snacks and hydration with a focus on the proper carb to protein ration for recovery.  Really quality information for the novice to seasoned athlete, that focuses on how to replenish the body after exercise.
Laura's book, Partner Workout, will be released in December and available on Amazon.  To learn more about her work, find her at Girls Gone Sporty.  Laura's Girls Gone Sporty Pinterest profile is also wealthy with ideas and tips for health and wellness. 
In Good Health,
MV