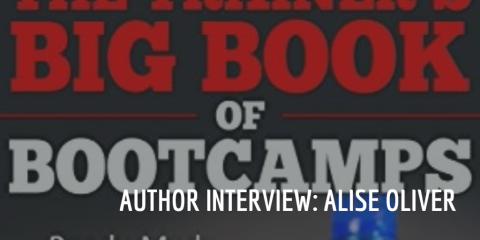 In my search to find resources for the FiTOUR instructors to help you meet the needs of your clients and class participants I ran across this exciting new resource, The Big Book of Bootcamps, by Alise Oliver.  I had the honor of sitting down to talk with Alise about her innovative book designed to help new fitness professionals get started teaching this fun, challenging, and relationship building format. 
FITOUR: How did you get started in fitness? 
ALISE: I joined a gym in 2009 in Louisville it was a JC; I started taking Spinning and Boot Camp and I just went crazy over one of the instructors in the class.  She was super inspiring and motivating.  She was just wonderful; I was devoted to her classes.  She started a meetup group and she would take us different workouts – hot yoga, Zumba, and she took us to Cross Fit.  Then once we visited cross fit we both started going there and I became some intrigued with working out and I just wanted to be like her: motivating and inspiring.  So, I decided about a year later to get my personal trainer certification in 2011.  I got my PT and shortly after that I got some cross-fit certs.   
FITOUR: Education/certifications?
ALISE: I am right now in the process of renewing my ACE PT and I'm also a Cross Fit Level 1 Certified Coach; I have three additional cross fit certs in Power Lifting, Olympic Lifting, and Mobility.  This past June, this is kind of going hand in hand with my life direction, I finished a yearlong life coaching certification – so I'm now a Certified Law of Attraction Life Coach.  I have a doctorate in music – at heart I'm a teacher - I love to motivate and inspire my music students and then this is just kind of a continuation of my love for inspiring people to be the best they can be, whether it's a musician, athlete, or just as a person.  It's what makes me happy – it's what I am really, what makes me special, and where my strengths lie in my life.
FITOUR: Do you currently teach fitness/train clients? 
ALISE: Actually, no, I left Louisville and I moved to Missoula with the intention to finish The Big Book of Boot Camps and complete my life coaching certification. When I moved here I gave up my coaching and teaching at the YMCA – but my intent is to move back and pick up where I left off in January. 
FITOUR: What motivated you to write the book? 
ALISE: I am very good friends with the director of fitness at the Y in Louisville, she said, "when you get certified in PT would you like to start coach group fitness?"  Of course, I said YES!  She said she would let me have whatever format class I want – I was super excited! BUT I had NO EXPERIENCE, I'd never coached group fitness before.  I scoured the internet for some kind of resource, a book that had workouts, group fitness workouts, especially a cross of boot camps and also the Cross-Fit classes that I'd attended.  I couldn't find anything.  In a couple weeks, I had to come up with my own classes; I worked hard to come up with my own workouts based on everything I'd done in the past.  A couple of years went by and I'd been coaching, I'd compiled all my workouts and they were all handwritten on colored paper.  I put them in a huge black binder and called it my "big book of boot camps" - and it was bursting at the seams.  In 2013 after teaching at the YMCA for 3 years I had a life change, I was in my early 50s, I was unhappy at my full-time job, I was the artistic administrator at the Opera Company in Louisville, and I was just kind of having a midlife crisis and I quit my job and sold my house and went on a three-month journey across the country.  When I left, my class at the YMCA said we want you to leave us the "big book of boot camps" and I said no!  I carried it with me on my journey.  In January of 2015 I came here to Montana actually to write a book about my three-month adventure.  That was the intent when I moved to Montana – I think it was in mid-February 2015 one night I couldn't sleep it was one in the morning I got up because it seemed the universe wanted me to be up; I sat in my chair and I was sort of meditating and all of a sudden a bolt of lightning like hit me – and it said you should sell the" big book of boot camps" for the new instructors who are in the same position you were in when you first started! That's how it became a real idea.  For someone starting out, it's overwhelming – just to have something in front of you so you can get your feet wet, everybody has their own ideas, but it never hurts to have a little help to start out if you're new and green. 
FITOUR: What advantages do you see to boot camps?
ALISE: First and foremost, the group aspect.  There is nothing like a group of people coming together to shed blood, sweat, and tears together.  It's a really bonding experience, it builds teams work, and cultivates good friendly competition.  It fosters incentive and accountability in a group.  When you go to the gym by yourself, no one knows if you are there or not.  But if your 8 o'clock boot camp happens and you aren't there, when you cultivate this comradery those people text you and call you and say, "hey where were you?"  Boot camp helps them to be more consistent in their classes.  Also, the variety is hugely powerful because it never gets stale they're not doing the same thing over and over again – it's always challenging and fresh and changing.  It's fun at the same time.  It's very important to get outside your comfort zone. 
You guys would just love talking with Alise; honestly, she is so much like the FiTOUR family in our desire to help people improve their lives.  Plus, she is so excited about fitness and all that it offers the human spirit.  I hope you'll stay tuned for the next five questions of my chat with Alise.  Her book is available now in Kindle or print formats.  Whether you are just getting your feet wet in fitness or are a seasoned instructor needing a little idea boost, her Big Book of Bootcamps has much to offer!  
In Good Health,
MV