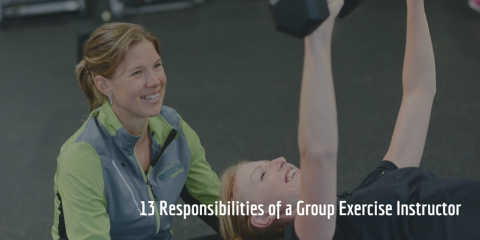 As a group exercise instructor, our responsibility is all encompassing and entirely under the scrutiny of a room of people with a variety of needs and likes.  What one person loves, another one hates.  What one person can do, another cannot.  The song Tami requested makes Carl want to run for the hills.  Maxine's form is verging on dangerous and Jessie's is spot on.  Randall will never get back on a BOSU and Sandy wants BOSU at every station.  You cannot possibly create a workout, playlist, nor cue in a manner that works for the whole room – but guess what?  YOU HAVE TO TRY.
That is the job.  You have to try to do each of the following 13 Responsibilities of a Group Exercise Instructor to the best of your ability every time you walk in that room, turn on the amp, and hit play.  This is your life as a Group Exercise Instructor:
Have a plan.  Be prepared, your class will thank you.
Cue proper body alignment.   Be a form stickler. 
Provide intensity options.  Progressions and regressions are mandatory.
Teach students how to monitor their heart rate and/or rate of perceived exertion during a workout.
Provide feedback to the class as a whole while simultaneously providing feedback to individuals.  
Design and implement safe and effective programming.  Demonstrate and coach correct form during a class, teach a proper warm-up and teach exercises within safety parameters for the population of the class being taught.
Educate students on how to select movement that is appropriate for him/her as an individual (modifications).
Be approachable to students.
Educate participants on areas of fitness:

Cardiorespiratory fitness
Muscular strength
Muscular endurance
Body composition
Flexibility

Educate participants on healthy living: - be a good example by making and discussing healthy lifestyle choices, proper nutrition*, rest and recuperation.
Attend and/or take on-line courses for continuing education to stay abreast of new developments in exercise science, sound nutrition and new class formats/trends.
Complete CPR/First Aid and maintain fitness industry certification.
Obtain the following if teaching as a contractor. (If working at a fitness facility, the fitness facility may obtain the following on your behalf): Professional Liability Insurance, Waivers and Informed Consent Forms, Medical Releases from Physician, Health Screening/Health History/PAR-Q Forms, and Conduct Fitness Assessments.  
All jobs have "reponsibilities" or tasks required of them.  Your facility management might have additional requirements, like be early or work the front desk for one hour to answer fitness questions.  The FiTOUR 13 Responsibilities of a Group Exercise Instructor is designed to help you touch base with the core of what you should do each time you teach.  If you aren't sure if you're hitting all the high points as an instructor - run through this quiz and assess yourself:  

Responsibilities of the Group Exercise Instructor.pdf