Tonya Davis-Miller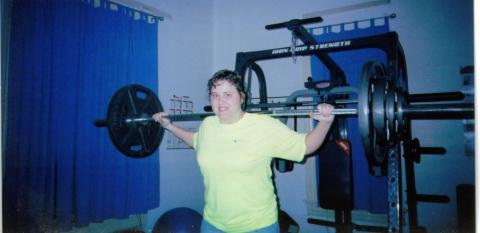 Tonya L. Davis-Miller, MS, CSCS
Tonya Davis-Miller has been a certified personal trainer since May of 1996. While working in a corporate environment, she utilized the services of a "trainer" in her local gym but after not seeing the results she wanted, she found out that the "trainer" wasn't certified. Believing in the value of education in whatever field a person chooses, she chose to attend a certification at her local hospital to acquire the tools she needed to see the results she wanted from her training program. After that first personal training certification, she was hooked on exercise and went back for multiple certifications in group exercise, aquatic exercise, Pilates, yoga, and nutrition, as well as continuing education courses in any and every exercise modality she could find. She threw away her heels and business suits in exchange for dumbbells and yoga pants and began working in the fitness industry because she enjoyed being able to help people achieve their health and fitness goals much more then she had enjoyed accounting. After years of working her way up to managing local gyms and seeing the trend toward more and more people with illnesses, injuries, and diseases needing more training then she was educated to give, she opted to go back to college so that she could continue to grow as a trainer. She obtained her Associate of Science in Allied Health with a concentration in Sports Medicine and Bachelor of Science in Exercise Physiology with a minor in Nutritional Science. As part of her college education, she obtained certification from the American College of Sports Medicine as a Certified Clinical Exercise Specialist and from the National Strength and Conditioning Association as a Certified Strength and Conditioning Specialist. She continued her education by completing her Master of Science in Exercise Science.  She is currently exploring her options for a Doctorate.
In addition to her duties as a FiTour ProTrainer, Mrs. Davis-Miller works as an adjunct professor of weight training and continues to work with personal training clients who need additional help with their fitness programs based on their individual medical needs and specific goals and teaches group exercise classes. Her favorite exercise activities are weight lifting and aqua aerobics. She is happily married to the man she calls the Yin to her Yang and the proud mother of two grown children. Her goals in life are to learn as much as she can about how exercise effects various diseases, to use that education to prepare the next generation of personal trainers and physical therapists for helping others achieve their health and fitness goals, and to research ways to use exercise to help heal the world.